Tesoro is being ridden in the pasture with 4 mares. He is still VERY well behaved.
Tesoro de la Danza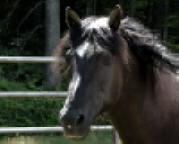 Another photo by Linda Meyers
You must experience the gait of a Paso Fino to really know how smooth a horse can be. Travel at speeds up to 20 MPH as though you were gliding on air.


This 15 H grulla stallion has superb smooth gait, conformation, and excellent disposition. His elegant movement is a joy to behold, and who could ask for a prettier head! He loves people and can be ridden around other horses in a side-pull. He also has all the dun factor markings and passes all these traits on to his foals. To date Tesoro has sired 14 foals, 7 fillies 7 colts ALL with dun factor markings. He puts great bone, size and athletic ability on his babies.

Tesoro has a royal heritage with Grand National Champions and Top 10 sires both top and bottom. He is a Pleasure Type Paso Fino and is bred to travel in gait at speeds up to 17 MPH.
On his Dam's side, he is a great grandson of Hilachas who was a Foundation Sire, Sire of the Year from 1974-1976, when the PFHA changed the award to Top Ten Sires, which he was from 1977 to 1984. Hilachas was noted for his elegant movement, fast smooth gait and beautiful heads. Also on his dam's side were Sonador, Tesoro Salago, Muneco LaCE among other great horses.
On his sire's side, he is a grandson of Majestuoso – Top Ten Sire from 1985 to 1996. Majestuoso was noted for elegance, excellent gait, conformation, size and great bone. Other champion horses in his pedigree include Duque, Monarca, Trobador, Autumn Breezes, Mahoma, Mr. Puerto Rico.
Click HERE for more information on our Grulla Paso Fino Stallion.
Several of his beautiful foals are for sale HERE
PASO FINOS
Bred for Temperament, Intelligence, Endurance, Versatility and Athletic Ability, Beauty, Size, Conformation, and a SMOOTH FAST RIDE!!
Dancing Horses, Inc. Breeding Program
Our horses are members of our family – each one imprinted and loved. We want them to go to homes that love and understand these special horses with soft eyes, kind spirits, and brio. We breed so that you may soar like an eagle as you largo on a Paso Fino bred by Dancing Horses. When I started researching horses and gaited breeds, I wanted to have a smooth ride on a safe and loving horse. This is how we found Paso Finos.

Check About Us for more information on our breeding program

Some of the wonderful horses that we have in our bloodlines include:

Coral's Monarca de Vez - Elegance and fast largo.
Coral LaCE - Pleasure gait and elegance. National Champion and Top 10 sire for years.
Majestuoso - Great Conformation and wonderful gait. National Champion and Top 10 sire for years.
Hilachas - Foundation Sire, Grand National Champion, and Top 10 Sire for years. Refinement, gait, and beautiful head.
Maria Lusia - National Champion and Mare of Mares. Well gaited SMOOTH and fast.
Bandolero Royal - Grand National Performance Champion – Great Largo.
Monarca - PR Champion Accurate Largo gait!
Guamani - Andalusian type body, accurate gait.
Muneco LaCE - Accuracy of gait.
Sombra LaCE - Big powerful horse with a fast largo.
Volare - smooth gait
Boricua - FAST gait.
Sonador - Natural gait.
Batalla - Accurate gait.
Mr. Puerto Rico - Good Chest and butt! Large horse.
Mahoma - Conformation, high head set, and fast Largo.

Visitors to our site since 1998!
Gold Award

Gaited Horses

Site of Merit!